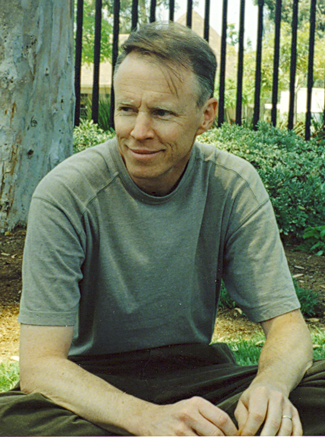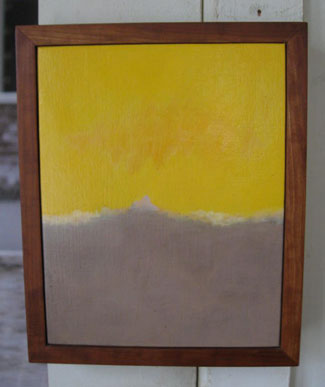 My other best friend at the time was also a musician. But his story is tragic. Freddy was a genius musician. He played clarinet through High School, and was one of 2-3 students out of 5-600 accepted in Cleveland Institute during George Szell. Freddy dropped out after a year. "I had learned all I could, and didn't want a career in Symphony Orchestra." I met him after a performance I gave, in Santa Barbara, in 1977. We started playing improvised music together. We performed together in the 1978 Summer Solstice Celebration, in SB. We lost touch with each other for years, until Christina and I ran into him in a record shop in town. I was just seriously getting into Bach, and asked Freddy some questions about Artist's interpretations of the Well-Tempered Clavier.
About a year later, we ran into him at a Music Academy of the West concert. Our friend Andy was giving a recital, solo cello, and the Kaspers were there. After that, we started hanging out together, their house or ours. We'd talk about art, listen to music, and play music together. We went on trips together, to San Francisco, Pasadena, LA, and San Diego: Looking at art in all the Museums, and spending hours in music stores, where Freddy always came out with a huge stack of records and CDs. Freddy never worked. Their whole living room was the Music Room, wall to wall records, CDs, a clavichord Freddy had built, books on music, state of the art tube stereo, and two modern black leather listening chairs. Freddy spent, on average, 8 hours a day listening to music. I used to bring my Professional Musician friends over whenever they had a question about music I couldn't answer. Freddy knew more about music than anyone I've ever known. I once asked him, half in jest, what he was doing, and he gave me a very serious answer: "I'm trying to understand Music."
One time, I was improvising with Bach's "Chaconne," when they came for dinner. Christina let them in, I kept playing, and when I stopped, Freddy, with a straight face, says, "You know, you're adding another voice to Bach." Another time, the four of us went to hear a violist we knew perform. She was in an all Women's String Quartet, and they were playing a piece by Fanny Mendelssohn. After the piece, I asked Freddy what he thought. "Well," he said, "If her brother had written music like that, we never would have heard of either of them."
Around 1998, Freddy decided that Baroque flute was his calling. He started practicing every day for hours, to get his embrochure. After a year of practice, he'd play for us: It was beautiful. About 6 months after that, he got together with a harpsichordist who had the same approach to music, and they started to work on a repertoire, for a concert tour. They spent a year preparing for it. "Duo Galant" was the name they chose; they made a PR recording, set up tour dates, and were all set to go. About a year prior to that, Freddy had asked me to take him to the Doctor's, his wife didn't drive. He'd had a blister on his heel that wasn't going away, and the doctor wanted to remove it. The biopsy showed it was melanoma. They removed lymph nodes in his legs, it hadn't spread, Freddy changed his diet and got tested monthly: Everything was fine. Then he started feeling bad, and went in for a test: The melanoma had spread throughout his body, was in his brain, and the doctors gave him only a few months to live. I remember I was in the shower, when the call came, from Freddy's wife: Christina came in and told me. As I dried off, I thought to myself, "One has to make sure every day that one is doing exactly what one wants." Freddy died without getting to perform even the first of his concert dates.
During his practice phase, on Baroque flute, he and his wife bought my 2nd oil painting. I made a cherry wood frame for it, and Freddy put it up in the music room, above his music stand, where he practiced. After he died, his wife gave it back to me. She said she couldn't look at it anymore because it reminded her too much of Freddy.
POSTSCRIPT

Looking over what I've written, so many influences have been left out. Artists I talked with, at length, over time, have each and every one, influenced me. It's like the proverbial story of the 5 blind men describing an elephant: Each one has a different perspective because one's touching only the tail, another the trunk, the next a tusk.... So to all of us, thank-you: Misha, Nina, Ingrid, Aaron, both Nates, Jen, both Johns, Nalini, Hallie, Damon, Joaquin, Ash, Girish, Laura, Mike, April, Phil, Poppy, Lex, Melissa, Alan, Pat, Sarah, Richard, Brett, Heather, Lindsey, Josh, and Brittainy... I'm sure I'm leaving out just as many, but you know who you are.

The Artists I never knew personally, throughout history, have every time I got to know one, through their works, letters, notebooks, or journals, had a profound effect on my development. Just off the top of my head, chronologically, some I didn't mention: Homer, Anacreon, Herodotus, Thucydides, Xenophon, Propertius, Tacitus, Petrarch, Fra Angelico, Brueghel, Weyden, Leonardo, Giorgione, Michaelangelo, Titian, Wyatt, Holbein, Marlowe, Shakespeare, Bacon, Donne, Rubens, Milton, Browne, Mozart, Jefferson, Cowper, Blake, Coleridge, Shelley, Keats, Mendelssohn, De Quincey, Poe, Schopenhauer, Tennyson, Dickinson, Brahms, Tchaikovsky, Sibelius, Modigliani, St. Vincent Millay, Enescu, Kreisler, cummings, Housman, Louie, Billie, Fats, Lester, Tatum, Bud Powell, Monk, Bird, Mingus, Clifford, Shostakovich, Bartok, Menuhin, Oistrakh, du Pre, Tatiana, ...Again, I'm sure I'm leaving out as many as I've mentioned.

Perhaps the biggest single influence upon my development as an artist is John Coltrane. From the time I first heard Coltrane, on record, right around when I started painting, he has been my constant companion, guide, and spiritual mentor, on the path to being and becoming an artist. For over 25 years, improvising with Coltrane on one of the 20 or so versions of "My Favorite Things," has been, along with Sandor Vegh's version of Bach's "Chaconne," and anything Casals plays, my standard practice pieces. From Coltrane I learned dedication to Purpose: Always going beyond what you can do, in the moment of creation; and the Truth van Gogh expressed in one of his letters to his brother, "One is not alone in believing things that are true." And the real purpose of Art, "Good will come of good," long before I heard it from the Greeks. As Bach always signed his manuscripts, "S.D.G."
I have to say here that none of this happened in a vacuum. I had unconditional love and support, until they died, from both parents; my Mom's parents; my Dad's Mother; and my Mom's brother, who is still alive at 93. My paternal grandfather I never knew: He had died before I was born.

There's way too much to try to sort through and choose anecdotes: I'll just mention a few. In 2003 I put everything in storage and moved to S. Florida, to take care of my Mom. She was 80, living alone, and had more medical problems than she could handle. This lasted 2 years, until she died. A few years later, I realized that my Mom and I had shared a strange reciprocal relationship. As her first born, My Mom and I spent the first 2 years of my life, just the two of us, together all the time: My Dad was at work. She took care of me. Then my brother was born. And in the end, my Mom and I spent the last 2 years of her life in exactly the same relationship: Just the two of us. But I took care of her.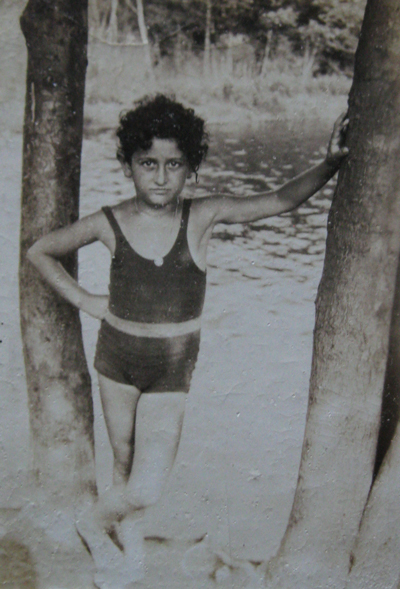 My Mom was brilliant. She skipped 3 grades in high school, and entered Cornell at age 15, in 1938. When I was taking care of her, she revealed something to me I never knew: Since childhood, every time she heard a piece of Classical music, she immediately "saw," in her imagination, the Ballet choreography for it. I couldn't believe she'd never done anything with that Gift. I was driving us in her car, when she told me this. I put on a CD of Solomon playing a late Beethoven Sonata, and asked my Mom to describe the Ballet. She closed her eyes, and effortlessly described every move the dancers were making, note for note!

Her Father had taken her to hear Caruso sing, and Toscanini conduct: The same Grandfather who took me to hear Segovia when I was 11. She told me that every day, growing up, when her Father was leaving for work, he would say to her, "What are you reading?" My Mom was a 2nd generation liberated woman: She spoke Truth at the dinner table. There's a famous story about my Mom's Mom, Mama Lizzie, who died when I was six. My uncle, who's alot like me, had brought another girl up from the city, to spend the weekend at my Grandparents' country house. No sooner do they arrive than the phone rings. My Grandmother answers it, and it's the girl's Mother, outraged. "I had no idea my daughter was going away with your son for the weekend. I want you to guarantee that nothing improper will happen." My uncle was in high school at the time. It was 1932 in America. "Look lady," says my Grandmother, "If your daughter wants to fuck my son, she's gonna do it in the city just as likely as she's gonna do it up here." And she hung up the phone! And in that house, they all laughed.

All through elementary school, on a school holiday that wasn't a business holiday, my Dad would take me on the train to the city, and we'd walk over to my Mom's Father's office, where he'd drop me off. Papa Sol was a civil engineer. I'd hang out in his office until lunch hour, and then, every time, we'd hop on the subway and go up to the Met. This must've started around age 5. We'd wander through a few galleries, stopping to look at the art, on our way to the cafeteria, which at the time had the large sculptural fountains in it's central court. That was Papa Sol's idea of taking his grandson out to lunch! I'm certain that from all those experiences at the Met, with Papa Sol, I learned at a very early age what real Art is, no matter when it's created: Food for the Soul. I never fell for all the "gimmicks," as Sy used to call them: Then or now. Years later I had that confirmed in Longinus, "On The Sublime;" and years after that I wrote the epigram, "Art is not concerned with the times/But the timeless."

When I was 10, Papa Sol gave me his college algebra book: I did every problem in it and couldn't wait to get home after school, to do the next. Right around that time, my Dad gave me Edgar Allan Poe's "Purloined Letter," to read, which had a huge influence on me; and continues to, to this day. I just reread it, a few months ago. Looking back on it, the adults must have noticed that I was Gifted: And while I was asleep, they all sat around and conspired together, how to cultivate it. Well, they did a good job.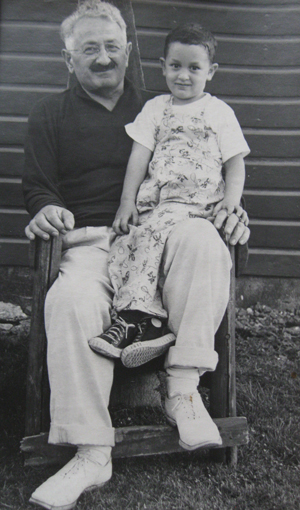 My Dad had grown up in Brooklyn, a poor kid from immigrant parents. In the tradition human beings willingly assented to for thousands of years, his parents had met at their wedding. They were from two different villages, and their parents had arranged it. They came here before WWI, to escape the Tsar. They were Ukrainian peasants. My last name, in Ukrainian, is still a word: It means a village "doctor," roughly equivalent to our nurse practitioner. They were prohibited from going to Medical School because of class/religion, and came over here for a better life for their children. They raised 7 children through the Depression, all of whom were decent people. I was very close with my Dad's Mom, Mama Jenny. She had worked hard every day, cleaning people's houses, anything, to put food on the table for her family. The famous story about her took place when my parents were well off, and Mama Jenny was spending a few days at our house. My parents had a huge circle of friends, and were always entertaining. So there's maybe 30 people at my parents', eating and drinking, and this one old lady, from the Old World. Some wise guy at the party says to her, "Jenny, if you found a million dollars, in a bag, on the bus one day, what would you do with it?" I was there, still in high school. My Grandmother was silent for a long time, while she thought about what she would do. Finally, she says, "If it belonged to a poor person, I would return it." Well, they all laughed at the logical contradiction: But they missed the point. I didn't miss the point.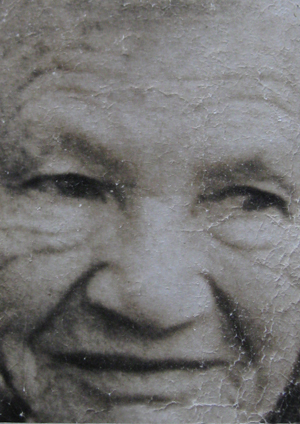 Back when I was 10 and the adults were conspiring to cultivate my Gift, my Mom's contribution was her favorite short story from college. My Mom was an English Lit. major in college. The story was, "A Sum in Addition," and I believe the author was Fredrick March. It disappeared from my Mom's library back in the early '90's, and I haven't read it since. The plot centered around a note, found in a cheap hotel room, itemizing a man's cash on hand and expenses. It was terribly tragic: starts out with meds for his wife, hospital expenses, finally funeral bill. He had lost his job in the midst of all this, so the final "sum in addition" was way in the red. The note had been given to the house detective, who showed it to a drinking buddy of his at the bar after work: The author's punchline was the comment of the drinking buddy after looking at the note. "Oh look, he made a mistake in the addition."

My Dad was so smart, it had transcended into wisdom, long before I was born. He and all his friends dropped out of high school at age 17 and enlisted in the fight against Hitler. Alot of them didn't come back. My Dad spent age 17-24 in the United States Army, WWII. He rose to Staff Sergeant, and was in Field Artillery: They went over there and cleaned up the Nazis village by village.

He came back, got married, I was born, he went to college on the GI Bill, and his first job as a civil engineer was back in the city, for Combustion Engineering. Doc Feld was his boss, and the first project Doc gave my Dad was for the Air Force. This was 1954 and we had bases all around the world. The Air Force had come to Doc for an engineering solution to the aggregate material they were using in the landing strips for our fighter jets. What they were using wore out too fast: They wanted a new material. My Dad was given the problem of studying all the factors and coming up with a more durable material. The Brass arrive, and before the meeting Doc calls my Dad into his office and says to him, "So Jerry, what did you figure out?" My Dad was 32. "Well," my Dad tells him, "Our bases are scattered all around the world, many in such remote areas, that the costs of transporting materials more durable, in the quantity necessary for constructing a landing strip, are way out of the range of allocated funding." Doc thought about it and then asked my Dad if there was anything he'd thought of. "There is," says my Dad, "They'll have to land the jets differently." Our fighters used to land nose up, at about a 45 degree angle, and the direct heat of the exhaust from the jet engines was what was burning out the strips. Doc told the brass and they liked the idea too. Before long, they started training our fighter pilots to land horizontal to the strip.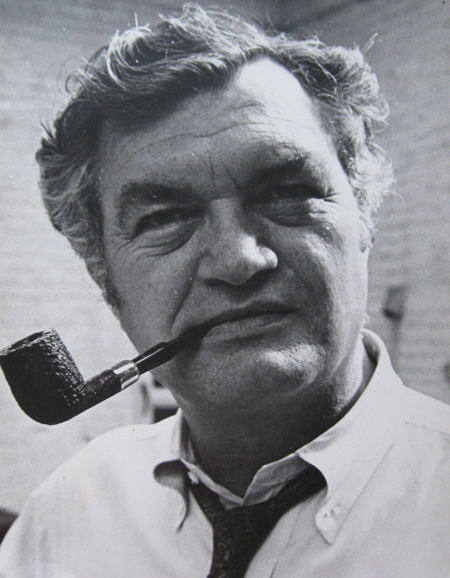 My Dad asked me what I wanted for my 20th birthday. I had just started painting and asked for an art book on Paul Klee. He got me the most complete one available at the time, and wrote in it, "Welcome to the world of Creation and Reflection." In 1985, he had a heart attack in Florence. They didn't think he would make it, so I flew over there to help out. My Mom was a wreck. He made it, but we had to rent an apartment for a month, because the doctors wouldn't let him fly right away. As he gained strength, we'd take walks around the city: One day we went to Bottega Veneta together. We both liked not only the same style of men's slippers, but the same color. We wore the same size, and there was only one pair in our size. My Dad said, "You get it." He had been so close to death, he didn't see the point of getting anything nice for himself anymore. When we got outside I handed him the bag, "Here," I said, "this is a present for you." Well, my Dad appreciated it but he made a strange remark about it, something I had heard him say for years. "You know," he said, "I still can't figure out where I got my Taste from." My Dad had exquisite taste in everything. I was in a good mood, so I joked with him. "You got it from me. You know the old saying, 'The tree doesn't fall far from the apple.'"